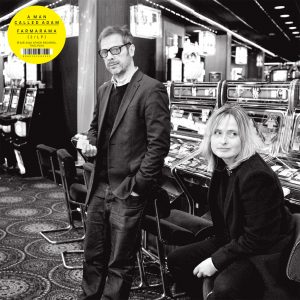 FARMARAMA – A MAN CALLED ADAM
A Man Called Adam's Sally Rodgers and Steve Jones are back with an album of brand new songs. Like their two previously released and much loved studio albums (The Apple and Duende) Farmarama is a genre-hopping collection of melodic, emotional pop-not-pop tracks that run the gamut the band's influences. From soulful slow jams to lo-fi disco, from deep house to dub and breakbeat, post-rock electronica and art-house ambience, the vinyl cut of Farmarama features 10 new tracks that retain the distinctive EMO Balearic sound familiar to their many fans, yet manages to pushes into new musical territories.
On Farmarama, Sally taps her DJ logic to deliver lo-fi dancefloor chuggers and lyrically tackles big subjects – addiction, loss, acceptance. References include French Symbolist poet Paul Valery and William Wordsworth in a song suite that considers life as a hi-definition, Westworld-like simulation – a Farmarama – and Disco as a design for life. Steve brings his mobile music expertise and acousmatic sensibilities to the sonic soup with apps, iPads, hacks and handmade synths, while musician and new collaborator, Paul Smith, adds jazzy licks, horns and catchy riffs. Live bass, percussion and saxes add acoustic sparkle to an album that, like all AMCA's best-loved works, looks for the silver lining in difficult times. Reflecting both their love of windswept beaches, mountains, lakes and waterfalls (the album was recording in various scenic locations including West Cornwall and the Lake District), and their love for, and loyalty to, the global electronic dance community, Faramarama is Balearic to the bone.
Released March 8, 2019
Booking enquiries: Matt@thepool-london.com
Press Contact; Sharon Andrews, SHINE. sa@shinepublicity.com
Sally at Brilliant Corners
A couple of hours from the warm-up of Sally's recent vinyl only set is now available to listen to on mixcloud.
A Man Called Adam join the line-up at the Kala Festival 2019
A Man Called Adam will be joining an amazing line-up for this boutique festival in an unspoilt paradise on the Albania coast. Performing their new album, live at sunset on the beach it's not one you'll want to miss.
For more info visit the website http://www.kala.al/
Jones & Rodgers @ MTI 11.05.2016 (Institute of Music Technology and Innovation, De Montfort University)
How do you recreate music made decades ago when the technology it was made with is now obsolete? What happens when you're looking for a way to perform live electronic music that doesn't involve staring at a laptop? Most of this season's MTIRL concerts have considered one or either of these questions. This evening, it's the turn of Steve Jones and Sally Rodgers to demonstrate their approach to making sound and music beyond desktop computing, QWERTY keyboards and point/click.
Their performance tonight aims to bring their collaboration full circle; what began as a search for new ways of making soundworks and gaining a deeper understanding of the interaction between people, technology and creativity has reignited a passion to play and share their music. Tonight's works will shift between re-interpretations of their back catalogue, new compositions and free-wheeling improvisation.
March 2015 – Sally wins a soundandmusic.org Frances Chagrin Award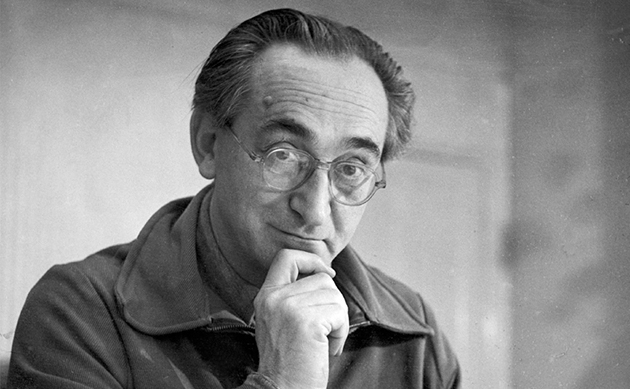 We've just signed a new digital distribution deal with Kudos so you can expect a ton of new releases from Discrete Machines in the new year. First up will be 'The Electronic Music EP', a collection of strange songs and psyched-out electronica inspired by, and dedicated to, some of our musical heroes. 'Ladies of Electronica' is an homage to Delia Derbyshire, Daphne Oram and Pauline Oliveros set to an Afro-beat, 'Radio Music' is a tribute to John Cage and his love of non-musical sound, and 'Stockhausen's Cardigan' is a loungey love song about the great man's spectacular knitwear. There'll also be dubs, instrumentals and video works to accompany the EP's release in Jan 2015.
——————————————————–
'Dr' Sally Rodgers will be a guest on BBC Radio 3's The Verb, at 10pm on the 9th of January 2015. This special show, hosted by the mercurial poet Ian McMillan will consider our relationship with 'Time' and the concept of 'Time Travel' with a cast of appropriate 'Time-heads' including sound poet Ira Lightman and science fiction novelists Geoff Ryman and The Great Dismal himself, William Gibson.
Podcast available here…The Verb, Time Travel Special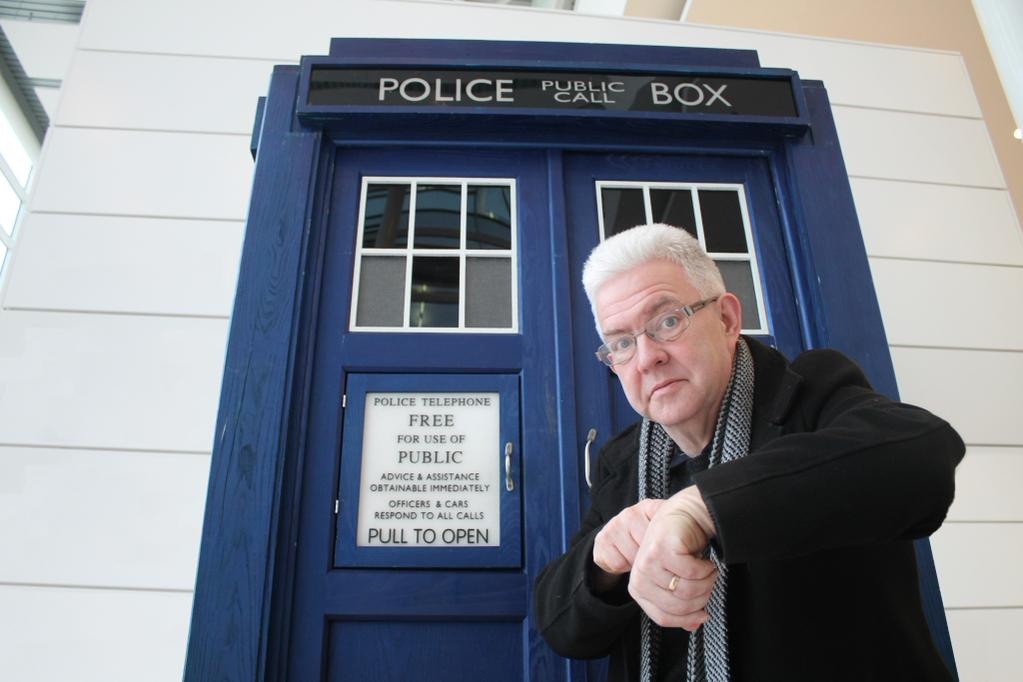 ———————————————————-
We've made a little scratch video to support our chums at Veggie Runners.
They are hosting a Movember, Tash-tastic City Run on 30th Nov and a 'shave off' after party at Outlaws Yacht Club.
Btw the music's from our forthcoming Discrete machines EP…
---
We'll be out and about at a couple of festivals this summer, trying out a Steve's performance concept, 'The Carry Principle' under our aka Discrete Machines…
Discrete Machines iPad improvisation in the Garden (featuring 'Deadmouse')
In June, 2014, we were at the Bradford Festival
And on the August the 9th, 2014, we'll be wandering around the Beacons Festival, like 21st Century space troubadours (or something…). See here for a few more details.
---
We'll be improvising 'The Memory Bank and Building Society' in an empty shop in Bradford. Details below. Come along, it's free and there many cool thing to see and hear.
'Retail has continually failed Bradford. Westfield's Broadway hole is testament to that, as are the many empty shops which line our streets. To commemorate consumer capitalism's bloody dagger in the heart of Bradford, Official Culture present Free Space, a three day festival of work in a disused Broadway shop. Beginning on Thursday 30th May, Free Space will celebrate the empty shop as a space for art and politics. We hope to include work across a number of disciplines, turning the store into a DIY gallery, installation and performance space.'
For more information about Free Space, please head over to the mini-site here.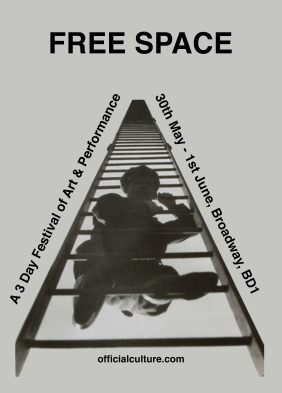 Download for a limited time – discrete machines meets dada poet Richard Nyman
john cage loves sounds just as they are – reactive video with Jitter/YouTube
excerpts from amca live set @outlawyachtclub
A portrait of us by Poshfruit at Outlaws Yacht Club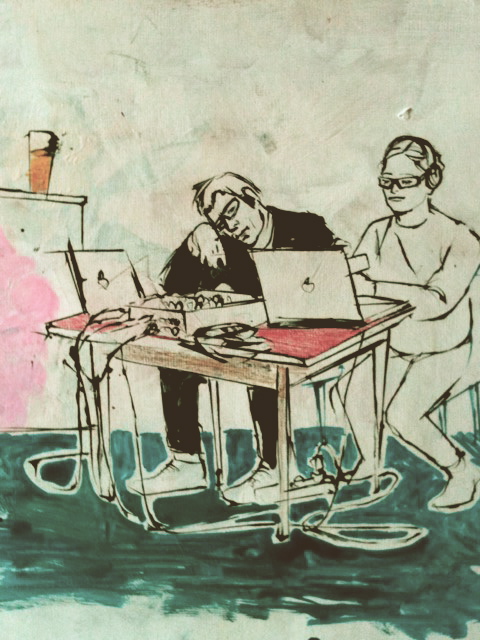 Our sound work 'nano' is included in a fantastic programme of sound art on a continuous, eight and a half hour loop for the whole month of April. You can listen, view the whole schedule, find more information about the works and the artists in order of play here at Basic.fm.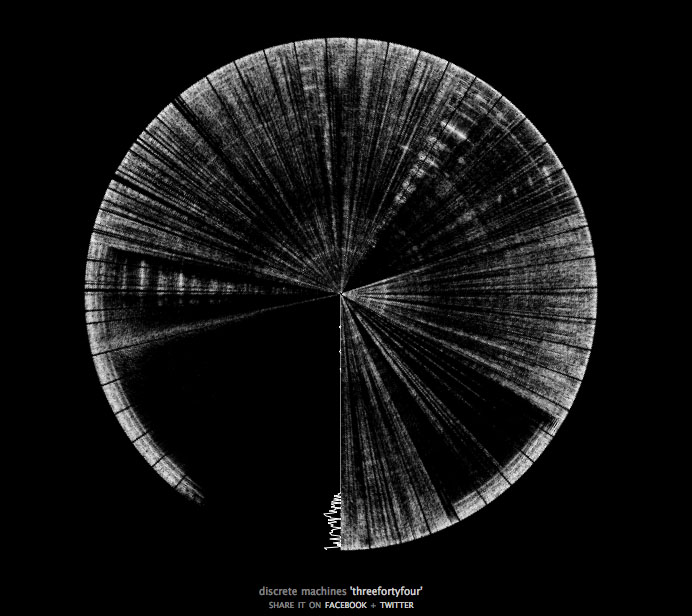 Here's a nice spectogrammic animation of a track (Threefortyfour) from our forthcoming discrete machines release, Cold Genius. Programme inspired by Jon-Kyle and built by Lee Martin with SoundCloud. Click here to view.

RIP Ben Gazzara – genius actor who co-starred with the magnificent Gina Rowland in Cassavetes' Opening Night, one of our favourite films. Here's a free download of an old demo of a song we wrote in his honour. Recording is a little shoddy but you might like the song…
Our transmedial take on Tennyson's Maud features in The Engine Room exhibition and conference, at the home of British experimental music, Morley College, London.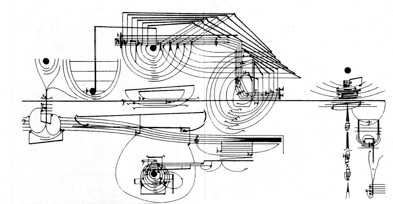 The engine room exhibition is a selection of sonic and visual artworks by established and emerging artists from across the globe. The works share a common ground in that they have all been inspired in some way by Cornelius Cardew's music and/or ideologies.
Traffic Movement is an imagined environment which transforms a recognizable street scene into a sonorous tone-poem. In this future soundscape, intelligent traffic lights speak their minds, the hum notes and partials of Electric Vehicles (EVs) ascend and descend, birds can be heard in the distant trees and footsteps echo on the city streets.
Read More in The Sustainability Review
Music and animation from our new project, discrete machines
Follow disctrete machines on twitter
The Science Museum, London: New commission from Johnson Banks for a series of musical idents
Science Museum – Babbage reMaxed from discrete machines on Vimeo.
Rodgers and Jones Live at Cafe Oto, Dalston, supporting Oval and IMBOGODOM
nano – resound falmouth :
A sound work and micro sculpture that considers the diachronic miniaturisation of computing technologies. Using sonic archeology techniques and oral testimony from three generations of the same family 'nano' recreates the rattle and hum of obsolete computers and couples these sounds with a meditative oral narrative.
Prisca Lobjoy's poetic film document of Pool, an installation for hydrophone and speaker, Jubilee Pool Penzance.
Pool from discrete machines on Vimeo.